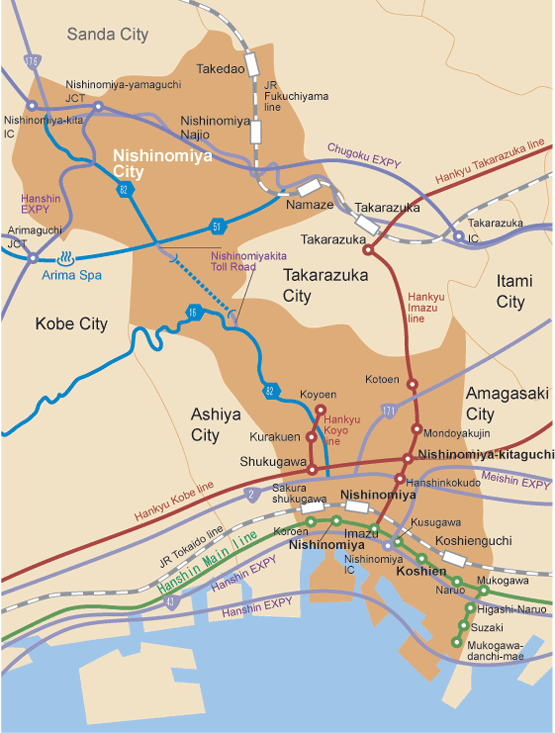 Nishinomiya City has 3 different railway networks, JR, Hankyu Railway and Hanshin Railway, running crisscrosses the City. There are 23 railway stations. These systems are crucial when people move over inside the city or from outside of it like as Osaka and Kobe.

As Hankyu Bus and Hanshin Bus run from main stations in the City, people may travel to the suburban areas where there are no railroads. Route bus, the important means of transportation, runs crisscross the City which might be too complicated for new visitors. Please make sure to check the route map and timetable at the information booth of railway stations.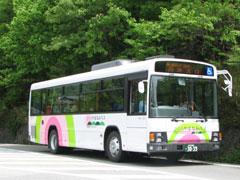 Started to run from April of 2009. This route bus connects the south area of the City and Yamaguchi-cho, one of the north area of the City, and Arima Onsen Spa (Kobe City). It has boost convenience of public transportation and also contributed to deepen exchanges of local areas.

As main features are very close each other in many areas, we recommend you to use rental bike for traveling around from the railway stations. You can borrow a rental bike at JR Koshien-guchi Sta., Hanshin Nishinomiya Sta., Hanshin Koshien Sta. and Hankyu Nishinomiya-kitaguchi Sta.
JR Koshien-guchi Sta.
Hanshin Nishinomiya Sta. Koshien Sta.
Hankyu Nishinomiya Kitaguchi Sta.

Parking Facility in the City
* There is no parking area around Hanshin Koshien Stadium. You may use the City Hall Public Parking and take the Hanshin Railway Train at "Nishinomiya-Sta." and get off at "Koshien" (5min).
* For a motorcoach, the toll parking in Shin Nishinomiya Yacht Harbor

* Member Companies of Hyogo Prefecture Taxi Association
BACK TO TOP